Animal Control Department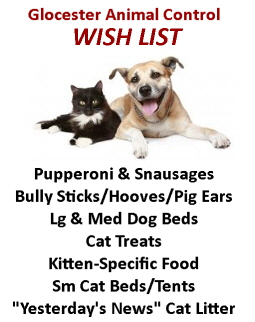 CONTACT
Jennifer Grundy, Animal Control Officer
401-568-3885

OFFICE
121 Chestnut Hill Road
Chepachet, RI 02814

HOURS
Tue-Thu, Sat-Sun 9:00am - 1:00pm

DIRECTIONS
The office and shelter are located on Chestnut Hill Road, just off the southern junction
of Routes 44 & 102. The building is located at the rear of the town's transfer station.

LEASH LAW
There is no "leash law" in the Town of Glocester. However, Town Ordinances require that a dog be under restraint: "Any dog is under restraint within the meaning of this Ordinance if it is controlled, or at 'heel' beside a competent person and obedient to that person's commands, on or within a vehicle being driven or parked on the streets, or within the property limits of its owner or keeper" (Chapter 139).

LICENSE INFO
Dogs are required to be registered every April. A valid rabies certificate is required at the time of registration. Glocester residents are entitled to register no more than 3 dogs per residence. The fee is $7.00 per dog. Licenses may be obtained at the Town Clerk's office during normal business hours.
Traditionally, each April the Town holds a rabies clinic where dogs & cats can receive their rabies shot at reduced rates. Licenses for dogs may be also be obtained at the clinic. Dates, times, and other details will be posted on the Online Town Calendar.

SERVICES
Among the services performed by the Animal Control Department are the return of stray animals to their owners and the placement of abandoned domestic animals in good homes. The officers may also arrange for the euthanization of animals that are sick or seriously injured.

LINKS & RESOURCES
Rabies Hotline: 1-800-482-7878
Wildlife Problems: 401-222-3070